Tour News
When you just have to stick to the rules
---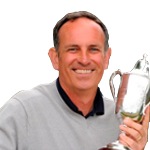 David Wood
PGA Professional Orsett Golf Club
Jon Rahm looked as though he was on the way to adding another title to his glittering portfolio at The Memorial event on The PGA Tour last week.
With a 6 shot lead after three rounds, all he had to do was literally "show up" on Sunday. Unfortunately, his COVID test that took place, tested positive and he was told that he would have to immediately withdraw. Obviously not the news the Spaniard wanted to hear from officials after playing so well. But after taking a little time he announced it was the only outcome available no matter how big his lead and there were more important things to worry about than losing a tournament. A class reaction from an even classier person.
The "winner" of the other Memorial event was Patrick Cantlay in a playoff with Collin Morikawa. A perfect time to find your game for Cantlay, who like Rahm loves the Ohio course built and owned by Jack Nicklaus. It sets him up nicely for next week's US Open at Torrey Pines. But where does your sentimental support now lie? In the Phil Mickelson camp or the Rahm camp if he is passed fit to play?
In the Ladies US Open, last week's history was equaled as the age of the youngest winner was matched by 19-year-old, Philippine golfer, Yuka Saso who won in a playoff at The Olympic Club in San Francisco. American Lexi Thompson held a four-shot lead only to slip back in the last few holes and let the Far Eastern girls to it. Ms. Saso modeled her swing on Rory McIlroy's and it is incredibly similar. She could be on the way to a career just like her idols as well.
Essex Golfer Matt Southgate just missed out on his maiden European Tour win at the Monday finishing European Open in Germany. He finished tied second after losing out to Marcus" the bullet" Armitage who shot the lowest round of the week (65), on a brutally difficult layout. A great effort from "Southers" still coming to terms with the loss of his Dad earlier this year. Matt tends to find some great form in June and July so let's hope he can get to the top spot on the podium very soon.