Club Fitting
Incredible improvement
---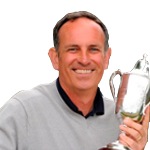 David Wood
PGA Professional Orsett Golf Club
Junior golfer Evan Gray came along at the weekend for a Driver fitting.
He had a standard 10.5 TaylorMade M4 regular flex driver which was set at 11.5. After warming up we started to compare that driver with some of the latest on the market, The Ping G425 Max and TaylorMade Sim Max 2.
The G425 made instant improvements to both carry and total yardage, BUT upon trying The SimMax 2 I can safely say I have never seen such increases.
Here are the numbers:
Carry Total yardage
TaylorMade M4 11.5 standard regular flex shaft. 136 185
PING G425 Max 11.5 standard regular CB shaft. 169 197
PING G425 Max. 12.0 standard stiff CB shaft. 178 204
TaylorMade Sim Max 2 12.0 Kurakage stiff flex. 196 214

SIXTY yards more carry, and nearly thirty yards longer total. I have increased drives by thirty yards in total before but never sixty through the air! If this doesn't make sense to be fitted and put something modern in your bag I don't know what doesn't.